PRICING
Marry Me Now Elopement Packages
Want to add up to 10 guests? (Call for cost and details.)
(The elopement packages do not include use of a changing area however extra time may be added onto this package for an additional fee.
*Use of the changing room must be made in advance at the time of booking otherwise everyone needs to arrive dressed and ready to go to the garden for the ceremony.
$250.00 Officiant Service Only – (20 minutes)
$500.00 Officiant & Photography (Most popular) – (40 minutes)
$750.00 Officiant & Photography & Video – (60 minutes)
---
Ceremony Selections
(Click here to see ceremony vow selections)
Rev. Gary officiates your marriage ceremony in this beautiful garden setting. The elopement packages are designed as a streamlined package primarily for a bride and groom and do not include music, chairs or the use of the silk flowers. Want to add up to 10 guests? (Call for cost and details.)
The photo packages include the high res digital files of the ceremony as well as a nice variety of beautiful bride and groom romantic poses after the ceremony. Copyrights are included in this package allowing you to make copies or prints. You get ALL of the images. No hidden gimmicks like "you only get to pick 10".
---
The Complete "Secret Garden" Wedding Package
90 minute package

– $1050.00
Additional time may be added at the rate of $300.00 per hour.
This package allows up to a maximum of 30 people attending including the bride and groom, wedding party and children.
Photography* with high res digital files with copyrights. You get ALL of the images. No hidden gimmicks like "you only get to pick 10".
Wedding Officiant * (Click here to see ceremony vow selections)
Dressing rooms for bride and groom.
Music before and after the ceremony.
Chairs.
Silk flowers for bride and groom to use.
The 2 and 3 hour packages are perfect for a casual mingle, cake and toast time after photos. Having a reception somewhere else? Ask about extending the photography coverage into your existing package.
---
CUSTOMIZE YOUR PACKAGES WITH A PROFESSIONALLY DESIGNED ALBUM
Digital Album Layouts available giving you the option to upload to your favorite online album source or we can take care of the entire album printing process for you. Digital album designs start at $350 and includes up to 30 images. Book prices are quoted separately depending on book size and styles.
---
Had my wedding here 12.13.15 and it was absolutely amazing. The setting couldn't be more beautiful and the photographs came out amazing. The large porch was a perfect place to relax and enjoy my reception with my guests. I had about 40 guests and there was ample room. The porch swing on the covered porch was a nice touch, too! The website does not give this venue justice….when you see it in person, it is a million times more beautiful! The lake was a beautiful backdrop for our pics and ceremony! Gary gave us a beautiful ceremony with his sweet laid back demeanor! I loved that he was smiling in all of our photographs and you can really tell that he loves what he does. My husband and I had the best day of our life getting married at the secret garden and I would highly recommend it ! Tina

---
Details
* Officiant and photography services are available at others locations. Additional fees may be required depending on the location. *Some restrictions apply – call for details.
The wedding couple is required to present a valid Florida marriage license prior the the ceremony by Florida state law.
These wedding packages are similar to a courthouse marriage except these are exclusively performed by Rev. Gary Davids at "The Secret Garden" in Longwood with it's beautiful outdoor garden setting. The Secret Garden is perfect for *up to 30 people. We offer these great deals for those who use our officiant service.
Setup and Decorations
The garden is beautiful as is but we realize that sometimes our guests like to personalize the event with decorations and catering, cake, etc.. Please check with us to see what is allowable and keep in mind that any set up or breakdown time must be figured into the time you contract.
---
Here are some pie charts that will help give you a good idea of time flow for each package you may be considering.
These times are only approximates and may differ based upon the number of guests attending and actual arrival times. You may opt to use more or less time for each event but from experience they are very realistic. Please call if you have any questions.
---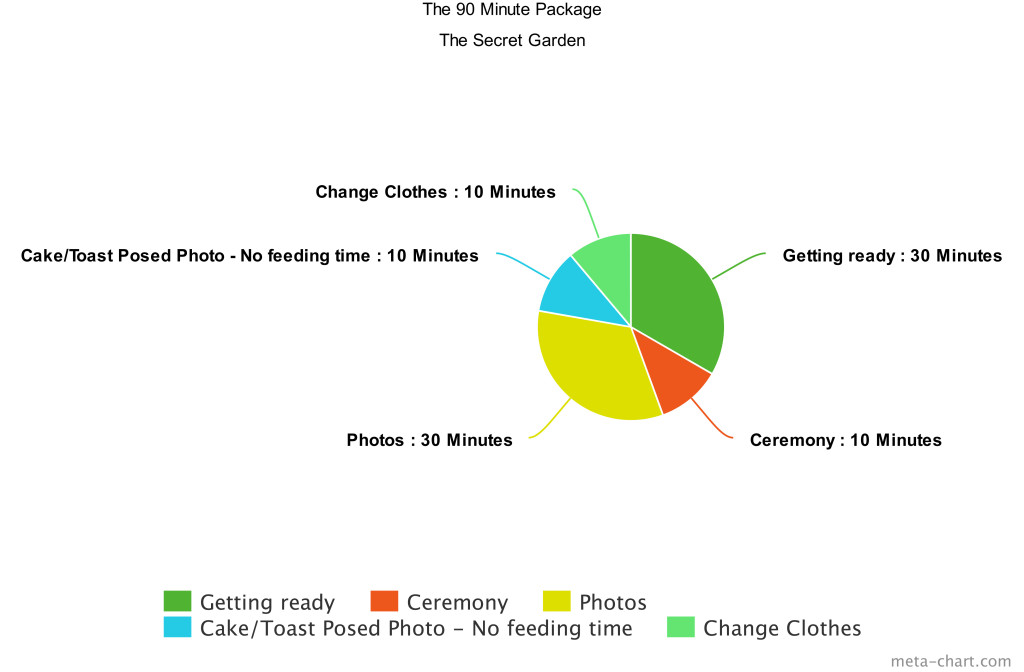 ---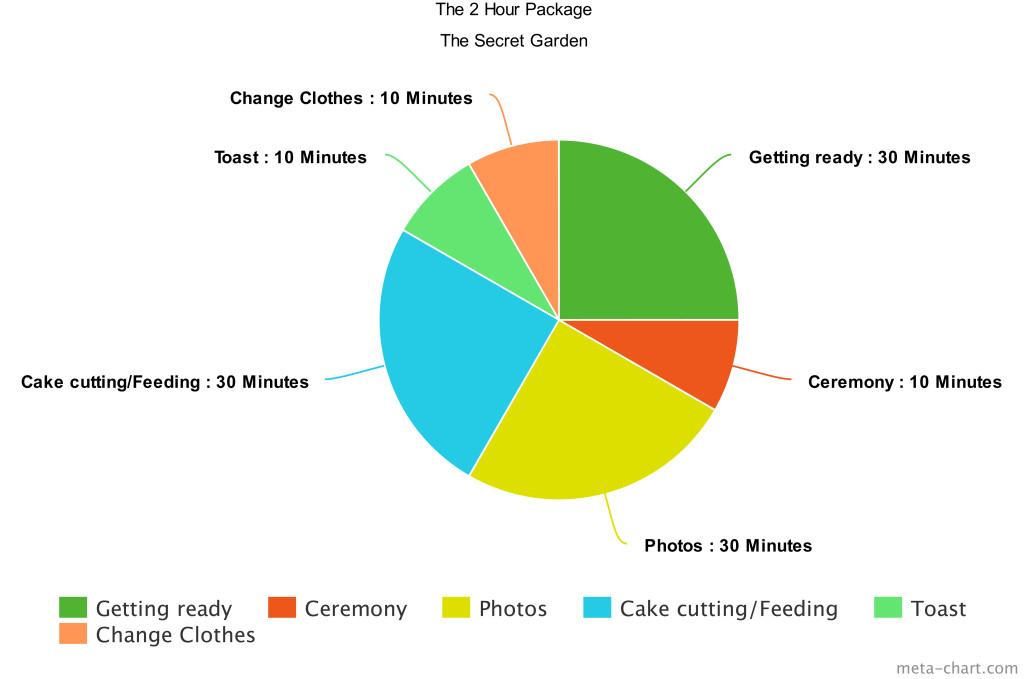 ---
---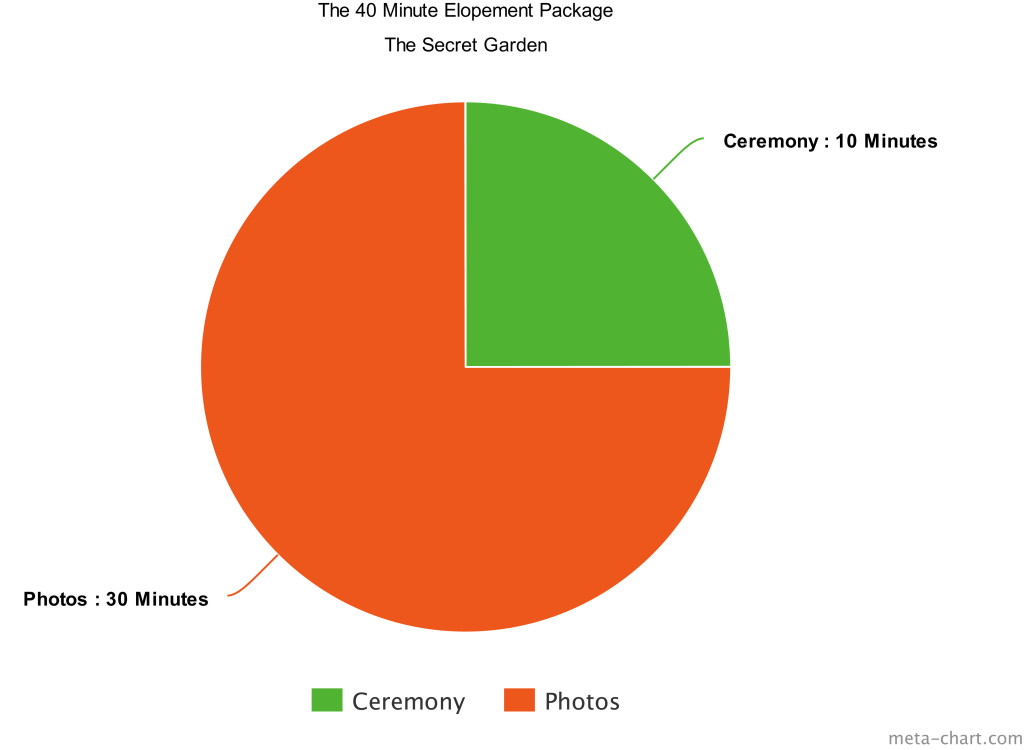 ---
Hits: 2430